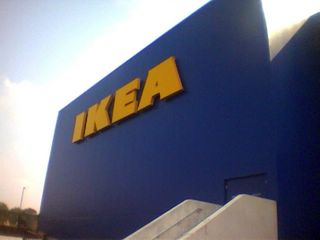 ...or something really really close to that. so jess and i went to
IKEA
on our way down to florida this past week. we sort of stayed too long and ended up not making it to Ft. Meyers, FL till 5.0am (6.0am Eastern). so that just goes to show you that with the right combination of company, cold drinks, snacks, and sweet music, you really can drive all night. (at about 3am the traffic seems to be best). but i digress... to IKEA! what an amazing store. so efficient! it's paradigm is the ideal one you'd love for every company in America to have. they use the least amount of packaging possible, they design everything to ship flat, and in general, things are just plain economical. you walk around and see things and you're like, "holy crap. that's so smart and simple. how is everyone else so far off that??" and the place is like a Target with Wal-mart (or even better most times) prices... the size of an airport. it's like Disneyland for adults. you could literally spend the better part of a day in there. and they've got food and a place for kids. the food! so efficient! they have about 5 different things, but they are dirt cheap. hot dogs: $0.50. i got 4 hot dogs and a coke for $2.50! $2.50! ice cream cone: $1 (and these are all taxes included) they had a huge selection of power-saving light bulbs and the packagin on each one was truly just enough to cover the bulb. all the product info was on the back. i mean, just stuff like that everywhere. incredibly smart. anywho, so we got our down comforter (which is incredibly warm (and fluffy)) and a couple other items and headed on the last 8hr leg of the journey. we also stopped on the way
back
from Florida. a good time was had by all.
right Florida, that was good too. no we had a lot of fun and i hung out with Sam (jesse's stepsister's husband) a lot and we shot fireworks off and watched Arrested Development and Mythbusters (who attacked the
Japanese Jet Pack video
. diagnosis: myth. dang) i think if sam and i lived in within a . . . 25mi radius and he didn't have a small child to keep alive and maybe we both didn't have to work quite as much, we'd probably hang out a lot. but alas...
oh man! we got this photo album of our wedding pictures from jesse's dad and kim for Christmas and it is way awesome. i'll have to get a picture of that up here. it is just great.
let's see. got back the 830 mi trip (one way) at 11pm monday night. overall, it was a lot of fun. jess and i had a good time. we laughed, we cryed, we jammed out in the car, we stopped off at Cafe Risque, we IKEAed till our hearts' content (for now), and and just plain enjoyed each other's company.